Woodgrove Dental Clinic
Dental Fillings, Inlays & Onlays
Restorative Dentistry
Dental Fillings in Nanaimo, BC
Cavities can develop in your teeth at any age, which is why good oral hygiene is essential for everyone. When cavities do appear, our dentists will recommend fillings to prevent further damage. We use composite resin or silver amalgam materials for dental fillings. The composite resin is long-lasting and natural-looking, making it a popular choice for front teeth. Amalgam is a durable material that is metallic in colour and is often chosen for back teeth and molars because it is the more affordable option.
What to Expect During Dental Filling Procedures
Our dentists provide compassionate dental care during filling procedures, helping you feel relaxed during your appointment. We use local anesthesia to ensure that your nerves and gums are numb before cleaning out the cavity and filling it in. We also take the time to ensure your filling is as appealing and inconspicuous as possible.
What Causes Cavities?
Cavities form in teeth as the result of the build-up of tartar. Tartar can build up for several reasons, including bacteria in the mouth, drinking an excess of sugary drinks, continuous snacking throughout the day, poor oral hygiene, or a combination of some of these factors. Routine visits to our dental hygienists and dentists are important for preventing cavities, and so is your at-home oral health routine. Brushing twice and flossing once daily can help prevent cavities, especially after eating or drinking sugary foods.
Contact Us
Request Appointment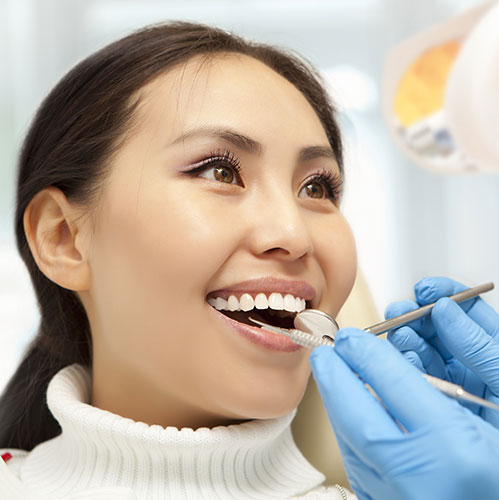 Restorative Dentistry
Inlays and Onlays in Nanaimo, BC
Inlays and onlays are attractive, permanent solutions for larger areas of tooth decay or damage. Both are made from natural-looking composite resin and are designed to restore your teeth to their natural function. If you have tooth decay, our dentists will discuss inlays and onlays as alternative solutions to fillings during your appointment.
What Is the Difference Between Inlays, Onlays, and Fillings?
The main difference between inlays, onlays, and fillings is that fillings use composite resin to fill in a small hole in the tooth, while inlays and onlays are custom-manufactured pieces of resin that are fitted and sealed against the natural tooth. Inlays fill in large gaps in the center of the tooth, while onlays fill in large cavities and may cover one or all of the ridges of the tooth.
Are Onlays Different from a Dental Crown?
Onlays are sometimes called "partial crowns" because they serve a similar function. The main difference is that onlays only cover a portion of the tooth, while crowns cover the entire tooth from the chewing surface to the gum line. Both are durable options that resemble a natural tooth and can last years. However, onlays are less expensive because they cover less area than a dental crown. Consult with our dentists to determine which option is recommended for restoring your teeth.
New Patients Welcome
Take Care Of Your Oral Health & Book Your Dental Hygiene Appointment Today